Raisa and Oliver is a beautiful couple from Angola that met while studying in Portugal, and decided to have their destination wedding on this side of the Iberian peninsula. For their engagement session they wanted something scenic and outdoorsy, and what not better place than the city they met, Lisbon. We wanted though slightly different approach to capture the landmarks of the Portuguese capital, and suggested a cruise over Tagus river. The couple embraced the idea, and we later learnt that Oliver  is actually a  trained sailer and used to sail a lot while in his twenties. We had a terrific time cruising the Tagus River and the soft afternoon breeze, the gloaming sun spells and a beautiful Lisbon landmarks in a background, made for a perfect setting for a destination engagement session of the two lovebirds. We wanted to give a special thanks to the Tagus Cruises, company for being so helpful  thoroughout the whole proces right from our first contact up to the boat trip itself. Our next post will be on Raisa and Oliver gorgeous Destination Wedding up north of Portugal at a beautiful Quinta Lago dos Cisnes.
Raisa e Oliver são um belo casal de Angola que se conheceram enquanto estudavam em Portugal, e decidiram celebrar seu casamento deste lado da Península Ibérica. Para a sessão de noivado eles queriam um belo cenário de Lisboa ao ar livre, algo que apalhace o melhor angulo da cidade onde eles se conheceram. No entanto queríamos também uma abordagem um pouco diferente para esta ocasião, e sugerimos então um cruzeiro sobre o rio Tejo. E para a nossa alegria o casal abraçou a idéia, e mais tarde soubemos que o Oliver é um velejador treinado e costumava navegar muito nos seus vinte anos. Tivemos um ótimo tempo cruzando o Rio Tejo! A brisa suave da tarde, os raios do crepúsculo sobre o rio, e uma belíssima Lisboa de fundo, fezeram um cenário fantástico para a sessão de de namoro destes dois pombinhos. Queremos dar um agradecimento especial para a equipa de Tagus Cruises, por serem tão prestativos durante todo o processo, desde o nosso primeiro contato até ao fim do cruzeiro. Nosso próximo post será sobre o lindo Destination Wedding de Raisa e Oliver no norte de Portugal, na bela Quinta Lago dos Cisnes.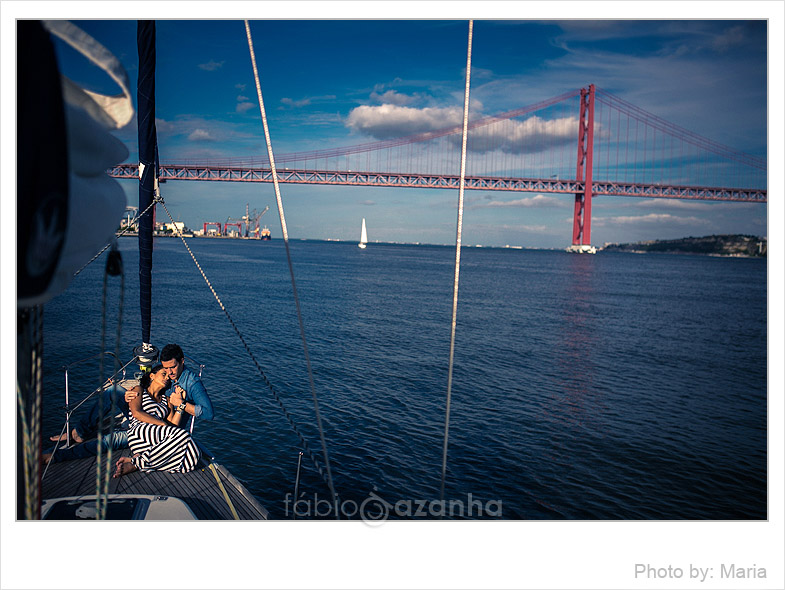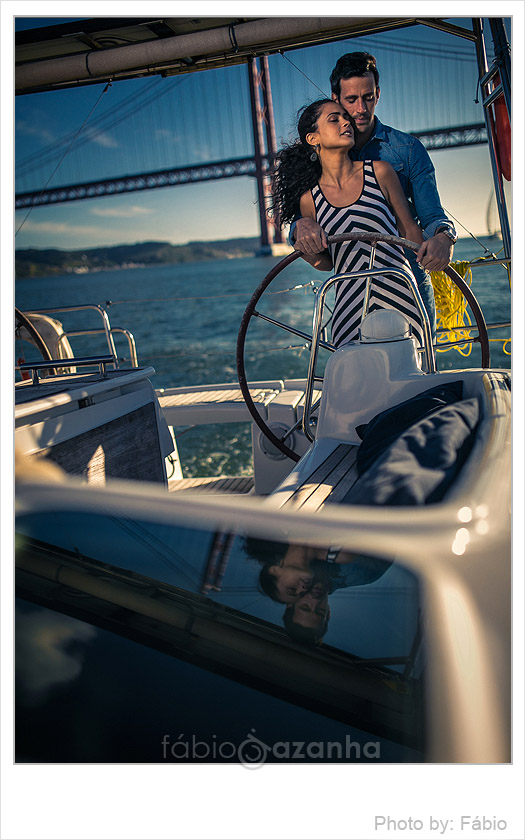 © todos direitos reservados.