We´re thrilled to be sharing with you the first of three features on Sravanthi and  Kimihiro´s important life events as a couple.
It was in Autumn of last year that we had received an email from the sweet bride to be,  enquiring about our photography services. After a friendly  skype chat, we knew we were up for an unforgettable photography experience at this culturally and nationally mixed destination wedding.
And the months seemed to have dragged until we reached July to finally meet this lovely, generous and kind hearted couple. They chose the Sintra´s Monserrate Palace as a perfect backdrop for their engagement session, mixing the oriental and western architecture.
Having been born in the South of India Sravanthi wanted to cherish the Northern Indian tradition by wearing an Indian Choli for the session, while Kimi wore a Sherwani.  It was a lovely pastime, where we got to know each other and talk about their wedding arrangements.
The evening didn´t finish without a jolly twist, where upon leaving the palace´s gates at their closing times, we realized Sravanthi´s brother, who stayed behind working at the palace´s café, had been looked inside. The friendly palace´s guard luckily let us back in, and we were soon reunited 🙂
A couple of days later, Sravanthi and Kimi had a cocktail welcome reception for their guests, that  came from all different parts of the world. For this unique occasion Sravanthi wore a Kimono, that had been gifted to her by Kimi´s parents. It was such a singular experience to watch the ritual of the bride being dressed in the traditional Japanese garment, where Kimi´s mom  had taken a course specifically to be able to put it on correctly. It took no less than an hour and half for the fascinating task to be completed, and the result was outstanding.
It was a lovely evening, where we got to know more of the couple´s guest that we were to meet again the next day. Thank you Sravanthi and Kimi for letting us be a part of those unique events.
Our next feature would be on couple´s gorgeous Hindu Wedding Ceremony. Stay tuned!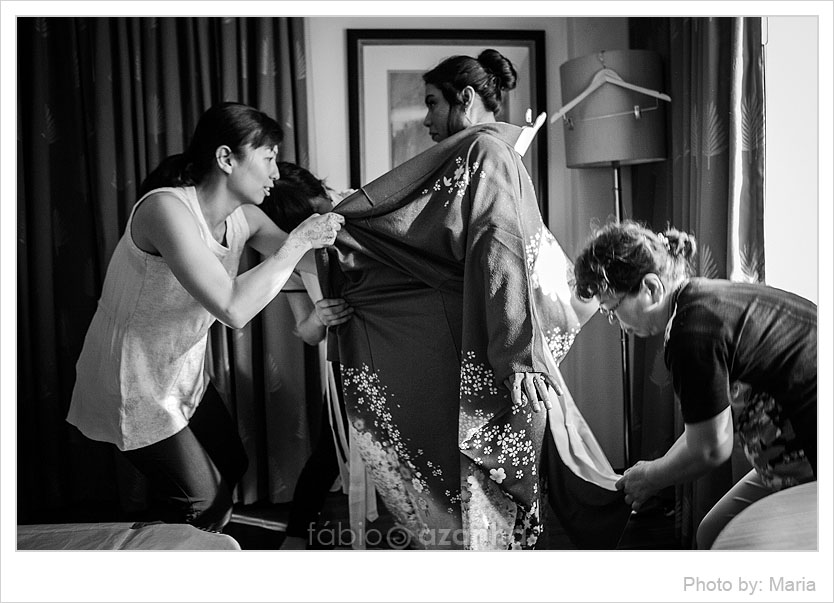 © Copyright