Há muito tempo desejávamos utilizar o Palácio de Monserrate como plano de fundo para uma sessão com nossos casais. E valeu a espera! Este belo edifício foi construído pela ordem do Baronet Inglês Sir Francis Cook, em meados do século XIX com um magnífico estilo New Gótico Árabe, o que o torna um dos locais mais mágicos de Sintra e ideal para a nossa sessão indiana. Sentimo-nos particularmente privilegiados por estar lá, sabendo que esta encantadora vila só foi recentemente reaberta depois de décadas de estar fechada ao público. Por mais que não se veja nas imagens tivemos constantemente a companhia dos vários visitantes do palácio, onde a sessão, e o maravilhoso vestido da Sarah a combinar com a arquitectura, formavam parte de mais um belo atractivo do conjunto do espaço. Aqui estão alguns dos nossos clicks favoritos desta primeira parte, em poucas semanas voltamos com destaques da sessão em traje indiano. Aguardem.
It´s been a while since we wished to have the opportunity to photograph couples having the Monserrate Palace as a backdrop. The Palace was built by an order of an English Merchant and Baronet Sir Francis Cook, in the mid XIX century, and it is unique for its style in the Sintra Palace District. We felt particularly privileged for being there, knowing that this charming villa had only been reopened after decades of being shut to the public. And indeed the palace had had constant visitors equally at awe with the magic of the place and the stunning Neo- Gothic interiors which combined perfectly well with Sarah´s gorgeous sequin wedding gown. Here are some of our favourites from this part of the session. In a few weeks we´ll come back with highlights from Sarah and Vasco´s session in their Indian Attire.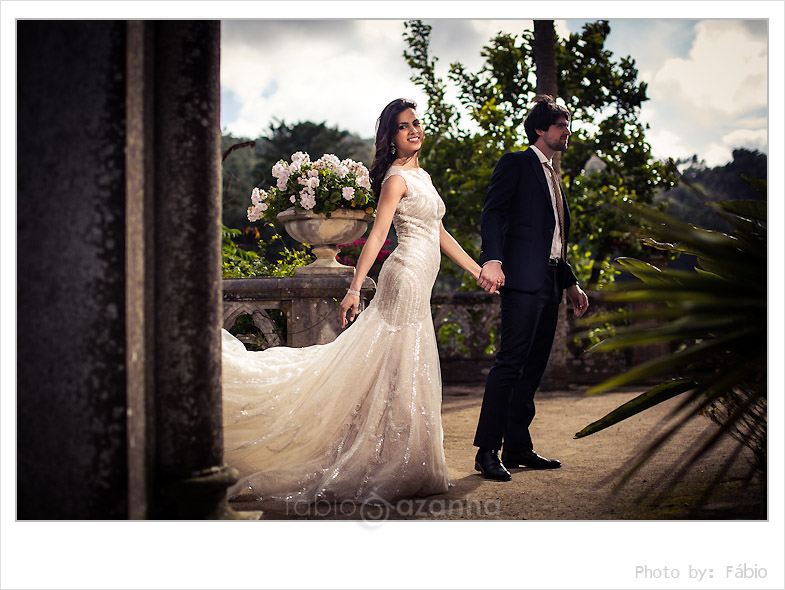 © todos direitos reservados.