The very next day after Julia & Franck´s lovely Alentejo destination wedding, we met the gorgeous newly weds for a Mr & Mrs photo session at the ruins of Montemor-o-novo Medieval Castle. We´ve picked them up from their hotel where they´d just given their goodbyes to the last guests heading back home. Rarely do we get the chance to meet our couples right after the big day, so it was great to be able to catch up and talk through the previous day´s highlights. And since we had left some hours into the party, we´ve learnt that there were some unwearied dancing guests that had seen the daylight when the great fiesta finished 😉 While catching up on everything we´ve had a blast photographing the two love-birds that proved skilled models in the stunning scenery of this Medieval Town ruins and castle. Thank you once again dearest Julia and Franck for all the precious time we´ve had together! 
No dia seguinte, depois do encantador "destination wedding" de Julia e Franck,  encontramos os lindos recém-casados ​​para uma sessão Mr & Mrs nas ruínas do Castelo Medieval de Montemor o Novo. Fomos buscar o casal no seu hotel onde tinham acabado de se despedir dos últimos convidados a voltarem para casa. Raramente temos esta oportunidade de encontrar os nossos casais logo após o grande dia, por isso foi uma óptima chance de podermos falar com recém-casados sobre os destaques do dia anterior. E assim soubemos que havia uns corajosos resistentes na pista de dança que viram a festa acabar sob a luz da aurora. 😉 Enquanto conversamos sobre tudo tivemos um óptimo tempo a fotografar estes dois pombinhos, que demonstraram grandes habilidades de modelos neste cenário deslumbrante.
Obrigado mais uma vez mais queridos Julia e Franck  por todo o tempo precioso que passamos juntos!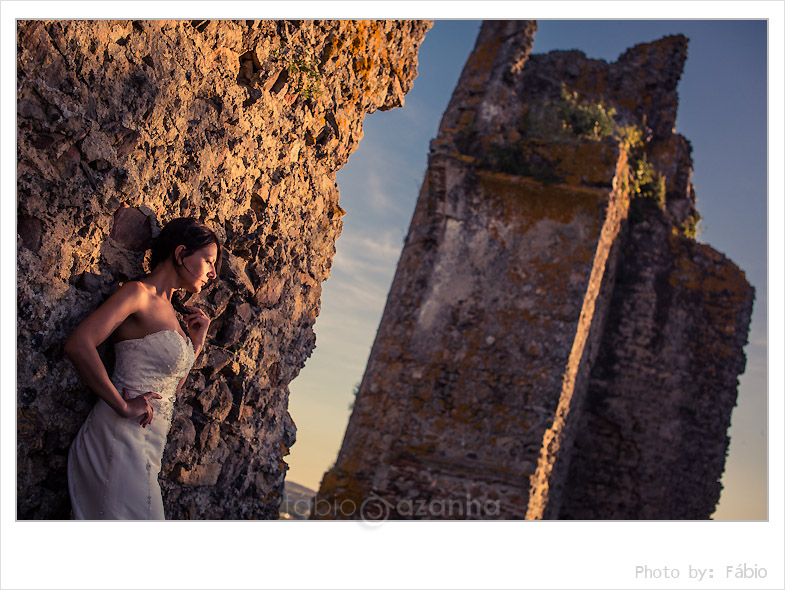 © todos direitos reservados.